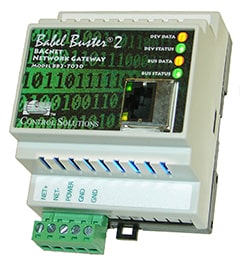 Control Solutions' Babel Buster® BB2-7030 is a BACnet IP to MS/TP router with slave proxy and BBMD support. It can also function as an object mapping gateway between non-routed IP and MS/TP networks. In addition, it can serve as an MS/TP to SNMP or Modbus TCP gateway.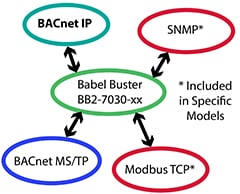 • BACnet IP to MS/TP Router
• Configured or Learning Router
• BACnet client and server
• Modbus TCP client and server
• SNMP v2c client and server
• Universal, fully configurable
• No extra software or drivers to buy
• Configured via internal web server


Babel Buster 2 Network Gateways
More Power. More Capacity.
More Features. Less Expensive.
No Drivers to Buy.
Easy to Configure Yourself.
Babel Buster BB2-7030 BACnet Router
Order code: BB2-7030
List price: $779.00
Your price: $625.00
Log in for Wholesale
Buy BB2-7030 Online Now!
BB2-7030 Base Model with Modbus Support
The BB2-7030 as a BACnet Slave Proxy will provide I-Am responses on behalf of devices that do not have I-Am support, or are slave-only devices. The slave proxy capability will allow systems to utilize dynamic address binding with devices that do not support dynamic binding.
The BB2-7030 as a BACnet Client/Server Gateway will poll BACnet IP and/or BACnet MS/TP slaves or servers, and retain copies of selected object Present Value properties. Upstream masters may then query the BB2-7030 to receive Present Value data originating from multiple devices. When used as a gateway, the BB2-7030's routing can be disabled to avoid conflict with other routers on the network.
The base model BB2-7030-01 includes a Modbus TCP client/server that provides optional BACnet to Modbus gateway capability. Value objects will poll their assigned Modbus register at the interval you specify. The content of the Modbus register will be given as the Present Value of the BACnet object when read. The Modbus register is written each time the BACnet Value object is written. The Value object corresponds well with the Modbus Holding register.
As a Modbus gateway, Input objects will poll their assigned Modbus register at the interval you specify, and provide the Modbus data as the Present Value when read. Commandable Output objects are used to write Modbus registers, and will update the Modbus device each time BACnet is updated.
Models BB2-3060 and BB2-7030 can both be used as an MS/TP to Modbus TCP gateway. Which one should you use?
If you are familiar with the BB2-3010 Modbus RTU to BACnet MS/TP gateway, and would like to use a Modbus TCP version of the same gateway using the same configuration tool, then the BB2-3060 is the better choice. Some will find the Windows based configuration tool for the BB2-3060 to be more convenient than the web based configuration of the BB2-7030.
If you are already familiar with the BB2-7010 or BB2-7030, then the BB2-7030 will have a familiar look and feel. However, because the BB2-7030 is also a BACnet router, it will potentially cause problems if you do not disable routing when there are other routers on the network and you only want to use the BB2-7030 as a gateway. If you prefer web based configuration, then the BB2-7030 is a good choice for you.
BB2-7030 with SNMP Support
The BB2-7030-02 provides an SNMP client and server instead of Modbus TCP. The combination of SNMP agent (server) and BACnet client makes BACnet devices accessible from SNMP. The SNMP client allows SNMP devices to be accessible from BACnet. You configure the remote SNMP agent's IP address, the OID of the MIB variable you wish to poll, and set a polling interval. The object data is stored in the BB2-7030 server for subsequent retrieval by another BACnet client.
The BB2-7030 includes its own internal web server that provides a web based user interface for configuring the BB2-7030. Configuration is done using simple templates, and each web page has an online help section at the bottom.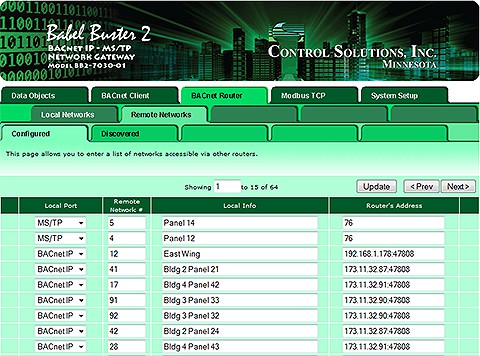 Click on any of the links below to view a demo copy of the entire Web UI in the BB2-7030.
BB2-7030 Features
• BACnet router, IP to MS/TP
• Configured or learning router
• BBMD support
• Slave proxy for static address binding support
• Client/Server gateway for remapping BACnet objects
• Modbus TCP client/server (BB2-7030-01)
• SNMP client/server (BB2-7030-02)
• Bidirectional communication between BACnet and Modbus or SNMP
• Commandable BACnet objects implement priority array (as server)
• Hardened EIA-485 transceiver for Modbus RTU
• 10/100BaseT Ethernet for BACnet IP and Modbus TCP
• Powered by 10-30VDC or 12-24VAC 50/60 Hz
• Power Consumption: 0.3A @ 24VDC
• DIN rail mounting, 100mm H x 70mm W x 60mm D
• Pluggable screw terminal block for power & RTU network
• Operating temperature -40°C to +85°C
• Humidity 5% to 90%
• FCC Class A, CE Mark
• Listed to UL 916 and (Canadian) C22.2 No. 205-M1983
Maximum Object Counts and System Capacities for BB2-7030
BB2-7030-01: Pool of 1000 objects
BB2-7030-02: Pool of 500 objects
The object pool may be allocated among the following object types, with a minimum of 1 per object type: Analog Input, Analog Output, Analog Value, Binary Input, Binary Output, Binary Value, Multi-state Input, Multi-state Output, Multi-state Value.
• Maximum 250 Binary objects with state text
• Maximum 1024 states for Multi-state objects with state text, actual number of objects/states supported varies by resource usage per object.
Useful object counts may be further limited by configuration file size which varies with use of character strings for object names, descriptions, and state text. MIB walk is limited to approximately 300 to 400 objects.
Additional maximum counts:
• Maximum BACnet IP device count 50
• BACnet IP Client read rule count 500
• BACnet IP Client write rule count 500
• COV Subscription capacity 1000
• Maximum Modbus TCP device count 50
• Modbus TCP Client read rule count 500
• Modbus TCP Client write rule count 500
• SNMP Client read rule count 300
• SNMP Client write rule count 100
• SNMP Agent maximum MIB count 200
• SNMP maximum Trap destinations 10



• BACnet Tutorial
Introduction to BACnet
• Modbus Tutorial
Introduction to Modbus, including function codes, exception codes, register numbering.
• SNMP Tutorial
Introduction to SNMP.
BB2-7030 Video Library
Watch these videos for an introduction to configuring the gateway. It's easier than reading!

Our most extensive technical support is provided by the same engineering staff that developed the products. Your personal attention from this staff is available via the support ticket system.
No user/password is required to open a new ticket. Once you open a ticket, you will immediately receive an email with your ticket number. Your ticket number becomes your login to review your ticket(s) later. Click the Support Ticket icon anywhere you see it. (If you do not get an email with your ticket number, within minutes, check your junk folder, spam settings, etc, and try again if necessary.)
Open a Ticket
Copyright 2016 Control Solutions, Inc. All Rights Reserved.
Copyright 2016 Control Solutions, Inc. All Rights Reserved.