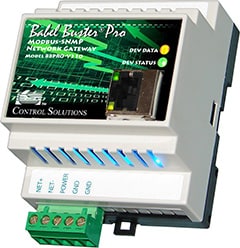 Control Solutions' Babel Buster® Pro V210 is the most intelligent connection yet between Modbus and SNMP v1 or v2c. The Pro V210 features an automatic table walker and flexible trap receiver that fully supports connecting Modbus to a UPS with an RFC 1628 MIB. Easily do things like trip a relay when a trap is received. Built-in Script Basic with SNMP enhancements provide even greater power and flexibility.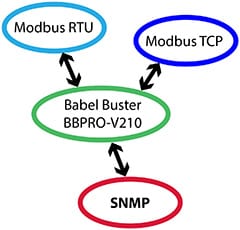 • Automatic SNMP table walker
• SNMP trap receiver
• Connect Modbus devices to SNMP
• Connect SNMP devices to Modbus
• Modbus RTU, TCP master or slave
• SNMP v1, v2c client and server
• Universal, fully configurable
• No extra software or drivers to buy
• Configured via internal web server


Babel Buster Pro Network Gateways
More Power. More Capacity.
More Features. Less Expensive.
No Drivers to Buy.
Easy to Configure Yourself.
Babel Buster Pro V210 Modbus to SNMP Gateway
Order code: BBPRO-V210
List price: $775.00
Your price: $629.00
Log in for Wholesale
Modbus RTU is RS-485 on standard model. RS-232 is also available. Select the transceiver option when you place your order; price is the same.